"I spent a lot of time with older local boys who were living on the street. Slowly, I began enjoying my time on the street." Khem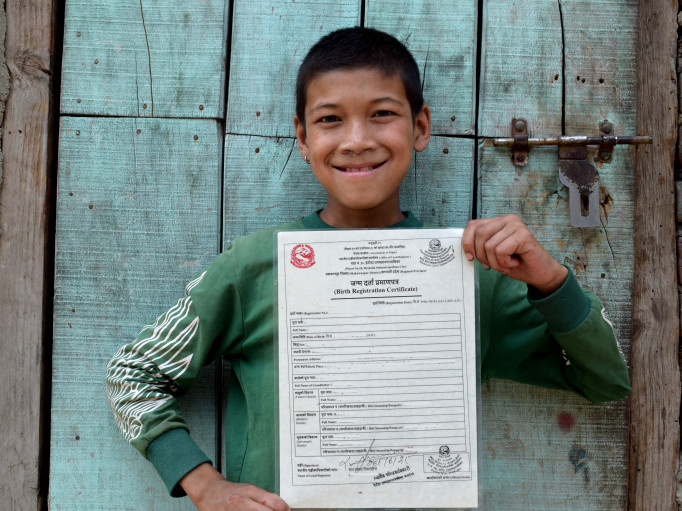 In Nepal, not having your birth certificate or citizenship has a significant impact on your access to your most basic rights. This is a reality that 12-year-old Khem knows all too well. From the room that he lives in with his father, Binod, sister and six other extended family members, they always got by on his father's meagre earnings as a scrap collector, but with a lot of time spent on his own at home, the streets began to call to Khem. Before long, he was another unregistered child on the streets of Kathmandu. Until now.
This is his story in his own words.
Onto the streets of Kathmandu
"Due to the poor economic conditions and alcoholic tendencies of my parents, my mother left the house when I was 6 years old. My father collects scrap for a living and is also on call as an informal daily worker. His alcoholism meant that he didn't take care of me properly so I spent a lot of time with older local boys who were living on the street. Slowly, I began enjoying my time on the street. I decided to leave home because we were poor and I didn't get any care from my father. I've been on the streets for about 12 months.
I earn money by collecting scrap too – I always collect garbage with my father and friends. I make about 1500-2000 rupees per week (~£10). Life for children on the streets is hard. We face challenges like physical and sexual abuse. We don't have access to essential services like healthcare and education."
"Society doesn't treat us respectfully – people stigmatise us and blame us for every bad thing." Khem
quote_block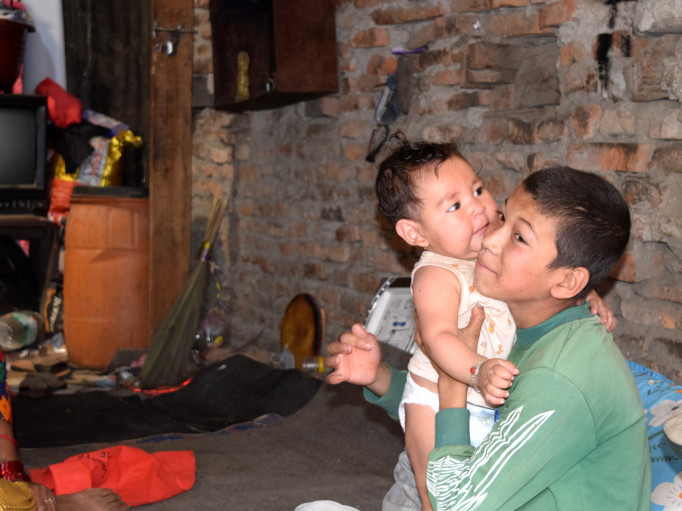 From invisible street child to Nepali citizen
"I never had my birth certificate. Before, I wasn't going to school, I was sniffing a lot of glue and avoiding my family. Having been deprived of government services, I was unable to enrol in education and never thought I would get legal recognition through registration. Then one day, I saw SathSath's learning centre and I wanted to be there to get a legal identity and live a simple life, free from the streets.
At the project, the project staff were very friendly. We get the chance to read different story books and play with a variety of toys. I have had help with medical support, counselling and getting my birth certificate, and have learned about the importance of education, how it can negatively affect me when I take drugs and why a birth certificate is good to have.
This was when I started talking to my dad again to get my birth certificate. Firstly, we had to make a copy of my father's citizenship because he had lost it. Then we went to my mother's maternal home to verify she was my mother. She had already gotten married again and has another child with her second husband. Then we had multiple meetings with local council members, community people and local leaders, who all gave recommendations for my registration."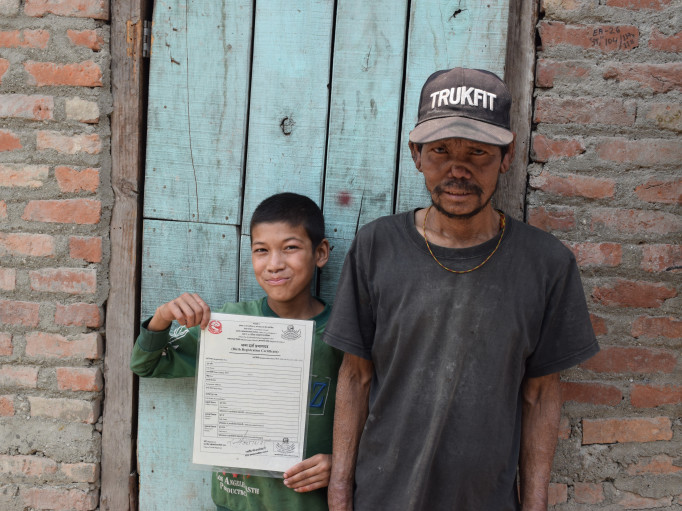 "Now, I happily go to school without any hesitation and want to be in the army when I grow up. I also want to visit America and earn money." Khem
quote_block
A father's role in registration
Although Khem and his father's relationship has been tricky at times, Khem would not have been able to apply for his citizenship without his father's support. Here, Binod tells us about the process from his point of view and explains his hopes for Khem's future now he is officially Nepali.
"I received my citizenship 18 years ago in January 2004. But I never registered my children before now. My relationship with Khem is good again and he lives with me now. Getting him registered was important to me because it helps provide him with an inheritance in the future and creates a permanent record of his existence. It helps to enrol him in school too and he can access medical treatment and vaccinations to stay healthy. In the future, Khem will be able to study higher education to get good job opportunities and open a bank account to save money.
For other fathers who haven't registered their children yet, I would say they should do it. Without a birth certificate, children can't get routine vaccinations and other healthcare. They might be unable to go to school or take exams which would limit their future job opportunities which would make them more likely to live in poverty.
I am proud of my child because he likes to help others and he has compassion for those in need. He has a big heart, is a hard worker and is quick witted. My favourite thing about being his dad is how amazing it is seeing his interests and character develop – it's something a lot of dads treasure. Seeing him learn and grow, develop his sense of humour and self and seeing the world through his eyes when we experience things as a family – those are my favourite things."