"I love football because it's a team game where every player is important." Chinita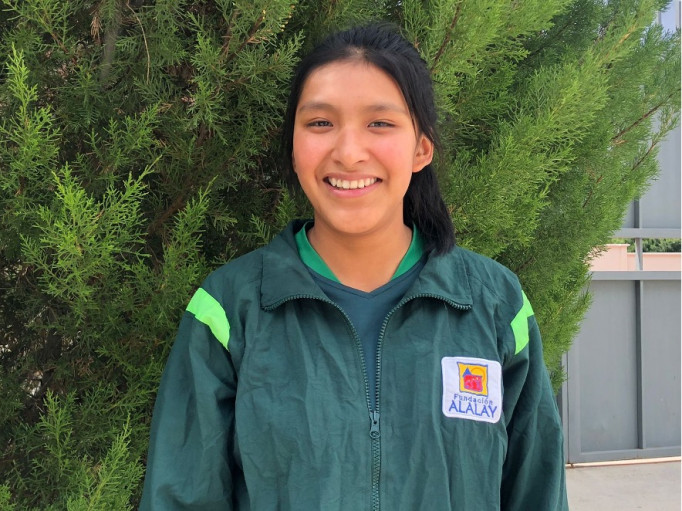 17-year-old Chinita is Team Bolivia's striker for the upcoming Street Child World Cup, taking place in Doha, Qatar, this coming October. Her journey to the pitch started when she was just 6 years old but since she kicked a ball for the first time, she's not looked back. Here's her story, in her own words.
"I moved into the Alalay home when I was 6. The people there soon became my family – they helped me enrol in school, get my identity documents, access healthcare when I needed it and taught me the values that now define who I am. More than anything, they made me feel like I was one of the family and I feel so happy to be part of it. Now, I'm in Year 12 at secondary school – I always attend and practise all the values I've been taught, like respecting people, empathy, honesty and everything that helps me to be a better person. I also know that God is my strength and guide.
When I lived at the home, I had the opportunity to participate in the football schools. It was something new for me, but over time, I started to love it. I learned to play, but I also discovered that football is more than a sport – football is a place to be free, to share and play. I've learned that being part of a team is a responsibility because each person is a fundamental pillar in the team's success, as is good communication between us all.
Thanks to my strength, dedication, consistency and training, I had the opportunity to go to Spain where I visited the Bernabeu stadium at Real Madrid, met my favourite players and other people who inspired us to continue following our dreams.
I also have the opportunity to participate in different training workshops where we learn more about our rights and responsibilities, including sessions where we can speak with adults to share our ideas and learn how to be good leaders. At the moment, I'm part of a youth committee of boys, girls and teenagers in La Paz, where we have meetings to make decisions and propose new ideas that will improve the lives of all children."
To the Street Child World Cup… and beyond
"I love football because it's a team game where every player is important. You have to commit enthusiasm and endeavour to be able to win. Football is a global sport, so if you put a lot of effort in, you could become a star like some of the most well-known player in the world, not only because of their footballing talent, but also because they often have huge hearts and show solidarity and love to those who need it most.
I love being able to show off my skills in the game and that my team is always right there with me, trusting me in every game. Going onto the pitch, I feel free, and I forget, just for a minute, all of my problems and frustrations; I can think and reflect, which gives me an opportunity to approach life more calmly.
Football can teach you so many skills like how to work as a team, respect, social skills, leadership, responsibility, humility, companionship, organisation skills and patience – these are values and skills that allow people to be better in life. The thing I like most about being part of the team is that we can all talk about things, we can make suggestions for how to improve our game, that we're all working towards the same objective and that we can support each other in the good times and the bad times. We can all be ourselves and support whoever needs it – the team is my second family who support me in my objectives and dreams.
Going to the World Cup in Qatar means achieving one more dream, one more goal. It's made me realise that every effort is worth it, and I'm happy I get to experience it with my teammates to show that we can go far, and hopefully, win. This trip will help me open my mind, get to know a new culture, a new country, make new friends – and I know it will help me have a clearer idea of my own life objectives.
At the World Cup, people should support Team Bolivia because we're a group of young women who have overcome huge difficulties and obstacles in life, but we keep moving forward, we keep fighting to be better people and achieve our dreams, which is possible thanks to the people around us who help us grow every day. People should also know that through our own strength, perseverance and enthusiasm, we are changing our lives, and we're now representing my beloved country, Bolivia – but, irrespective of the result, we will feel proud of ourselves. I hope people will have faith and hope that we'll put all our effort into every single game.
After the World Cup, I'm going to finish my studies so I can receive my Baccalaureate certificate. I will then study accounting and medicine so that I can help boys and girls who are on the streets in whatever way they need me. But more than anything, I hope to find an opportunity to play professionally in the female team of Bolivar."