"When school reopens, I will go every day because when I didn't have the uniform, I wasn't allowed to enter the school." Tazim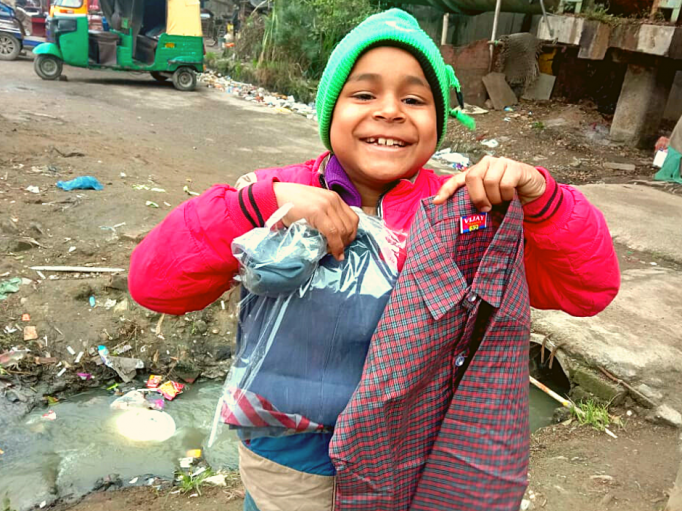 Tazim loves school. But for the last couple of years, both the pandemic and his family's personal situation have prevented him from learning.
Barely a meal a day
As an enthusiastic 8-year-old, Tazim and his family hail from a bustling metropolis in the Uttar Pradesh region of India. However, a lack of income meant they could barely afford one meal a day and before long, they were forced to move to Delhi in search of work that could keep them all alive and fed. After borrowing some money from a neighbour, the family made the long journey to the capital.
A slum to call home
Arriving in Delhi, Tazim, his three brothers, his sister and his parents moved in with his aunt, who lived in a small, rented house in a sprawling slum. It was tight, but the family had shelter and both Tazim's parents managed to find work. His father spent his days transporting customers from A to B on his pedal rickshaw, while his mum split her time between making envelopes, cutting threads off new garments of clothing, and occasionally begging to increase the family's resources.
"I was very afraid that my son may miss school and he may remain illiterate like me." Lakshmi, Tazim's mum
quote_block
Since then however, things have changed.
Tazim's mother shares, "We are a poor family and his father doesn't live with us now. He drinks alcohol and so he lives in his village. I live here alone with my children and I've just married my two older sons for which I had to take a loan of 80,000 rupees (approximately £785). This meant I wasn't able to find the money to buy my child's school uniform. I am very afraid that my son may miss school and he may remain illiterate like me. Right now, I'm not well which means I'm not able to go to work. Only one son helps with the family expenses, while another lives away so can't help out. If I can go back to work and save some money, I may be able to buy a uniform in the future."
Education is the future
Fortunately, Tazim came into contact with Toybox's partner in India, CHETNA, and started attending one of their Education Clubs to support children on the streets who are unable to access formal education. The sessions have been vital for Tazim to continue learning, especially because he's not had access to the technology that would allow him to learn virtually throughout India's lockdowns.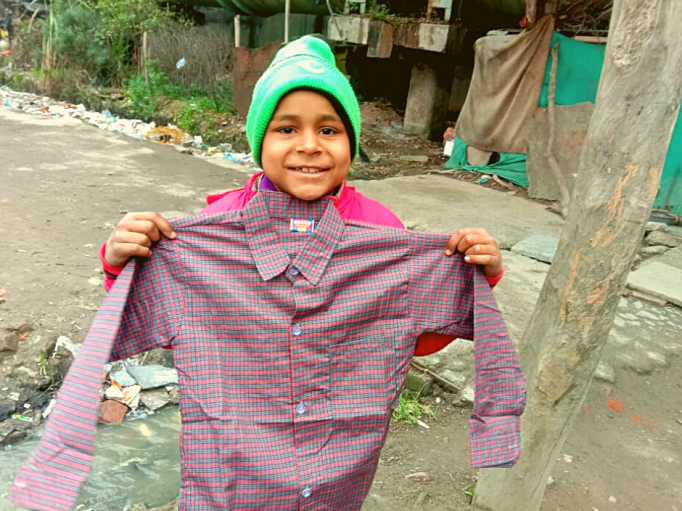 "Going to school is important because we get knowledge and information in school and also get to meet a lot of new friends and teachers every day. We learn to tell the difference between good and bad. When I didn't go to school, I didn't know how to read and write; now I have learned many things." Tazim
quote_block
Tazim's mother explained some of the challenges they faced during lockdown. "Due to the lockdown, we were not getting any work and we did not have enough money to buy his uniform. CHETNA did a great job by giving clothes to him at this difficult time. Now, my child is studying well."
Now, Tazim is enrolled in Year 3 of formal school and is excited to go back to class, with his brand-new uniform. "When I didn't go to school, I used to feel very bad and I keep thinking about whether I would ever get enrolled or not. I enjoy studying, ever since I go admitted to school, I'm very happy and learning new things. I want to become a good person through education and I want to do an army job because one can get a good amount in this job and at the same time, there is a chance to help people. If I grow up to become a soldier, then the financial condition of my family will improve."
When remembering the first time she met Tazim, CHETNA's street educator said, "I used to see the child every day talking to his parents regarding school uniform and his mother works as a beggar and hardly earns 50 rupees a day. Now the child has got a school uniform. So he will definitely go to school. He studies very hard at the Education Club whilst also making envelopes as work so that he can help the family."
"Children should talk to their parents to get them enrolled in school and children who do not go to school can also take help from CHETNA so that they can get assistance. If children study, no one will be able to take advantage of them." Tazim
quote_block